Grand York Rite Bodies of Idaho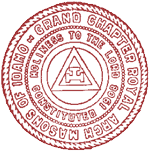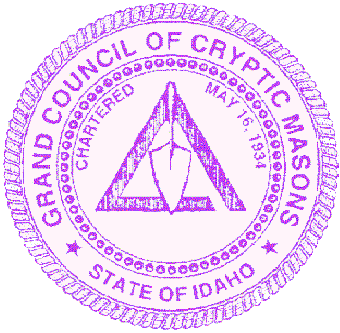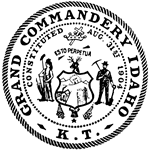 6 April 2020
JOINT ORDER NO. 2
In light of the recent COVID-19 outbreak, the edict from the Grand Lodge Ancient Free & Accepted Masons of Idaho, and the prevailing recommendations from public health authorities, we, the Grand High Priest of Royal Arch Masons in Idaho, Richard L. Rowe, the Most Illustrious Grand Master of Cryptic Masons in Idaho, Jeremy C. Vaughn, and the Grand Commander of Knights Templar in Idaho, Jerry D. Parsons, do hereby issue the following Joint Order regarding the Annual Sessions of the York Rite bodies of Idaho for 2020:
The Session will be held on Saturday, April 18, 2020 via Zoom, a video-teleconferencing software application. The Grand Lodge of Idaho has graciously agreed to host our sessions via their Zoom account. Please download and test any required Zoom applications prior to the Session. The software is free and runs on computers, Android, and Apple. It does have a call-in option, too, but email and internet access will be required for elections (see below).
The session will be limited to voting delegates only due to the unique circumstances. Each constituent body is directed to ensure that each local body is represented by at least one of their voting delegates at the Session. Each High Priest, Illustrious Master, and Commander is especially charged to ensure their local body is represented by at least one member.
Registration via the Idaho York Rite website is required. There is no fee to register, but an email address is required. ALL DELEGATES MUST REGISTER BY NO LATER THAN 11:59 p.m. Mountain Daylight Time on Thursday, April 16, 2020. This is essential due to the need to compile credentials and send out the link to the Session.
Each registered delegate will be sent an email with a link to the Sessions Zoom. Make sure to check the email address you register with.
The Grand Council Session will begin promptly at 9:00 a.m. Mountain Daylight Time (8 a.m. Pacific Daylight Time); the Grand Chapter Session at 10:00 a.m. (9:00 a.m. PDT); and the Grand Commandery Session at 11:00 a.m. (10:00 a.m. PDT) Please make sure you log in a couple minutes prior.
The Session will be tyled, and the agenda will be only the bare essentials necessary to move our organizations forward for the coming year. Due to the nature of the software, all non-public ritual will be omitted. The agenda will be essentially as follows for each body:

Declare the Session Open without Ritual
Roll Call of Grand Officers and Voting Delegates/Constituent Bodies
Consideration and Approval of reports in the Advanced Proceedings (to be distributed online only – will be on the website)
Consideration and Approval of the presiding officers report (in the Advanced Proceedings)
Adoption of a budget for 2020-2021 (in the Advanced Proceedings)
Election of Officers for 2020-2021
Installation of Officers for 2020-2021 (with necessary modifications and allowances for the situation)
Declare the Session Closed

All other resolutions and business will be deferred to the 2021 Sessions. The Resolutions received on time for this session, as distributed, will carry over as timely submitted for 2021. All awards will be presented at a future appropriate opportunity.
Elections will be conducted by a Survey Monkey form provided by the generosity of the General Grand Council Cryptic Masons International. Each credentialed delegate will be EMAILED a link to fill out their ballot. This will allow each delegate to vote their conscience, maintain anonymity of the ballot, and to allow quick compilation of the results. It will be critical for each voting delegate to quickly and efficiently fill out and return their electronic ballot when instructed to do so. More instructions will be provided to all who are registered.
As noted in Joint Order No. 1, we recognize that these measures are unusual and a drastic departure from our customs and traditions. We also recognize that it is likely that the altered nature of our session plans may inconvenience some delegates and may even prevent a few from participating. It is not our intention to cause a hardship to anyone or to disenfranchise any delegate; we are simply trying to do the best we can for the fraternity we love so dearly so that we can move on to the more important matters at hand for all.
We appreciate the love, understanding, and cooperation of all York Rite Masons as we sail these uncharted waters together. Take care of yourselves and your loved ones.
Dated this 6th Day of April, 2020.
MI Companion Jeremy C. Vaughn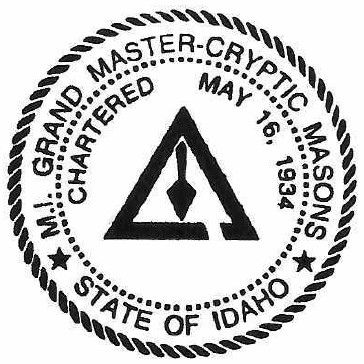 Most Illustrious Grand Master
Grand Council of Cryptic Masons of Idaho
ME Companion Richard L. Rowe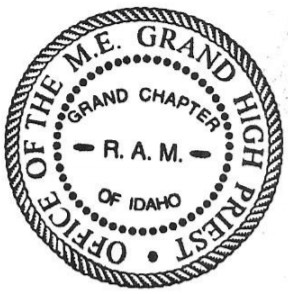 Most Excellent Grand High Priest
Grand Chapter of Royal Arch Masons of Idaho
Sir Knight Jerry D. Parsons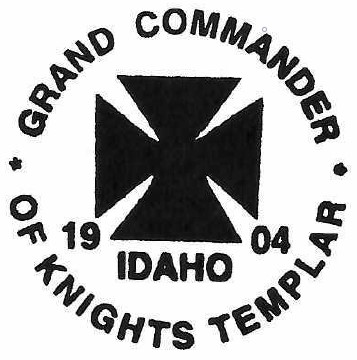 Right Eminent Grand Commander
Grand Commandery of Knights Templar of Idaho
Attest:
NORMAN C. LANE
Grand Secretary/Grand Recorder